A workshop guide to rivets
By Bob Hulme
There have been several articles in The Shed magazine about fasteners such as nuts and bolts, so it is now appropriate to turn to another kind of fastener, blind rivets, or "pop" rivets, as they are commonly called.
These rivets you can normally buy from nuts and bolts shops and hardware retailers. "Pop" is actually a brand name registered by Emhart Technologies of America for their blind rivets. Blind rivets are the proper descriptive term, and they are so-called because you do not need to see or have access to the other side of the joint which is to be riveted.
Blind rivets are put into predrilled holes. When the riveting tool draws the rivet stem back sharply, the rivet is expanded to fill the hole and to form another head on the blindside. When the rivet is fully set, a further pull on the stem causes it to snap off. The noise is where the "pop" brand comes from.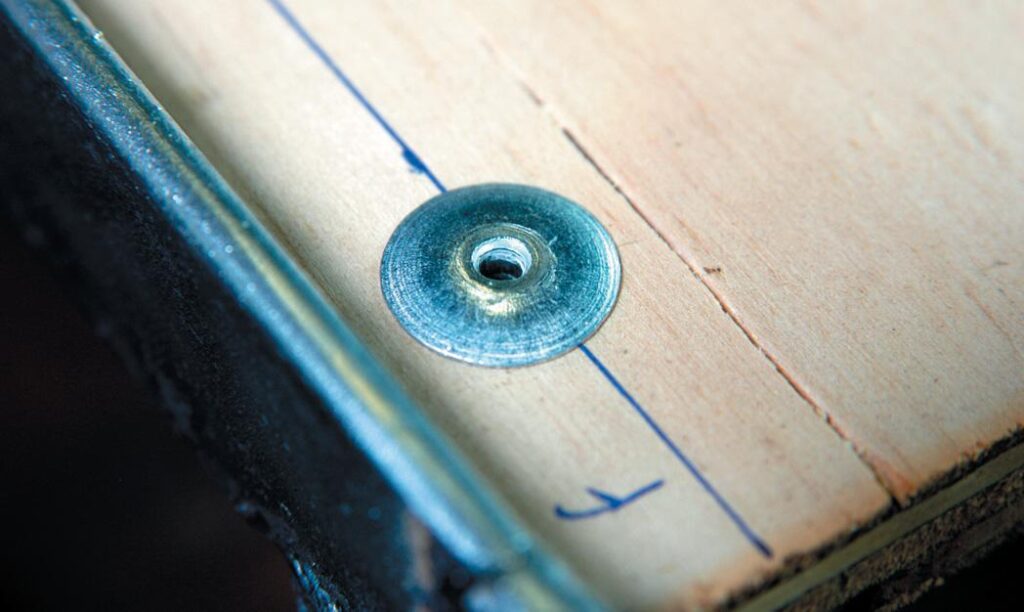 Code
The requirements for buying a rivet are quite detailed. By contrast, when you want to buy a bolt, it is a simple matter of stating the diameter, thread type, and length. Or if you have a sample of what you want, you can measure this and basically ask for the size. Not so for blind rivets. They have a code system.
The code which is shown here illustrates how it specifies the rivet head shape, the materials for the rivet, the stem diameter, and the grip range. Due to their American origins, blind rivets are still commonly in imperial sizes. The samples shown from tables point to the actual rivet sizes so that you can check unlabelled rivets in your shed.
For the full range of rivet sizes, you should consult these charts through suppliers and distributors.
Head shapes
The diagrams (below) show different head shapes.
The truss head is the most common type of rivet used.
Countersunk heads are used when no protrusions are possible; for example when another panel
must lie on top.
Rivets with a large flange spread the load of the rivet head on soft materials such as plywood or plastic.
Sealed rivets make sure that no leakage can occur. These are important in situations like caravans
and truck bodies where people and goods need to be kept dry.
Multi-grip rivets have ribbed shells so that they collapse more easily to work over a wide range of
grip thicknesses. These are handy when you don't want to keep lots of different sizes of rivets, but have varying applications.
For best results, however, a more specific size of rivet is ideal.
To add more choice, there are different materials to pick from and the shell is usually a different one from the stem—a bit like the many choices of coffee such as double shot, trim, flat white, and so on.  Commonly used blind rivets have an aluminium shell and zinc-plated steel stem. Where corrosion is an issue, stainless steel is available for both shell and stem.
The quality of most industrial rivets is usually good, but you can tell a poor quality rivet by the way the stem breaks. The break should be below the head of the rivet so that no sharp edges protrude. You should be able to wipe your hand over a riveted joint, feeling only smooth surfaces.
These rivets are suitable for general work but there are special ranges. For example, there is a whole separate range dedicated to aircraft use.
Some innovative blind rivets have a drill point on the end to drill their own hole and pull up the rivet all in one operation. However, for nearly all jobs on dry land, the rivets described in this article will do the job admirably.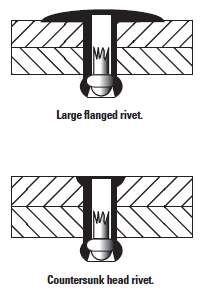 RIVET CODE IDENTIFICATION
Charts of rivet identification show how a series of numbers and letters describe a rivet accurately. Take the rivet 73 AS 5-5.
1. The first two numbers identify the type of head: 73 is a common truss head rivet.
2. The first letter identifies the shell or body material, here aluminium. The second letter identifies specialised rivets: AS is an aluminium rivet, with a Grade 5056 zinc-plated steel stem.
3. The third number is the rivet diameter. Here this is the No. 5 rivet diameter which is 4 mm.
4. The fourth number shows the grip range or maximum grip length. Here the digit 5 means the rivet grip range of the No. 5 rivet diameter is 6.4 mm to 7.9 mm.
RIVET SHELL OR BODY MATERIAL
AS Aluminium rivet, Grade 5056 steel stem, zinc-plated
SS Steel rivet, zinc-plated steel stem, zinc-plated
MS Nickel copper alloy rivet,
Grade 400 steel stem, zinc-plated
STS Stainless steel rivet, Grade 302/384 steel, stem zinc-plated
STST Stainless steel rivet, Grade 302/384 stainless steel stem
AA Aluminium rivet, Grade 5052 aluminium stem
CS Copper rivet, steel stem plated.
ROSIE THE RIVETER
The idea of rivets became central to the American war effort during World War II because of their association with the icon of Rosie the Riveter.
There is now a Rosie the Riveter/World War II Home Front National Historical Park in Richmond, California, celebrating the war effort of civilian Americans, including the millions of women who took on jobs such as welding and riveting during the 1939 -1945  war.
The US National Parks Service in its comprehensive history says Rosie the Riveter was first mentioned in a 1942 popular song. Then, the fictional character of "Rosie the Riveter" as the ideal woman worker: loyal, efficient, patriotic, and pretty was promoted by a government propaganda campaign and became associated with real women.
The idealised picture of women in industrial jobs was reinforced by the "We Can Do It" poster by J Howard Miller. This Westinghouse artist was commissioned by the War Production Co-ordinating Committee and produced an enduring image. which became popularly thought of as
Rosie the Riveter.
Meanwhile, the real picture was somewhat different. The National Parks Service history notes that there were more women welders than riveters but Wendy the Welder (portrayed by Janet Doyle, a welder in the Richmond Shipyards), was not as appealing an image. Twenty-seven percent of the Richmond Shipyards workforce of 90,000 were women by 1944, including over 41 percent of all welders and 24 percent of all craft employees.
Although there was a lot of diversity among women workers (six million women entered the American Home Front workforce during World War II), black women were absent in "Rosie the Riveter" advertisements. The stars of the campaign were middle-class domestic housewives with no work experience who would leave when the war was over. And government propaganda pressure warned women that if they did not work then a soldier would die, people would call them slackers, and they were equivalent to men who avoided the draft. However, for many women, war work was important as they learned more about their own capacities, as did men and the larger society.
As one woman aircraft worker put it, "For me, defense work was the beginning of my emancipation as a woman. For the first time in my life, I found that I could do something with my hands besides bake a pie." A woman who took a white-collar job at Boeing Aircraft's huge Plant No. 2 in Seattle said that she had "found a freedom and and independence I had never known…the war changed my life completely.